Physician-Focused, Value-Based Kidney Care.
Everything you need to succeed in value-based kidney care and grow your practice.
Win in value with all upside.
We provide the tools, big-data analytics, and local care team support so you have everything you need to enter value-based care (VBC) arrangements smoothly and can focus on what's important – delivering the highest quality of care for your patients.
Whether it's through direct contracting with payers or participating in government models, we use analytics and actuarial models to determine the best path for you to transition to VBC.
Do more for your patients
Our locally based care teams act as an extension of your practice to ensure the care you prescribed is followed and to help keep your patients healthy and out of the hospital.
You are the expert when it comes to determining the best course of care for your patients. Our goal is to arm you with the resources you need to stay independent and focused on delivering the highest quality of care. 
We help you deliver results.​
Preventable admissions reduced
Readmission rates reduced
Reduction in unplanned dialysis crashes
Reduction in ESKD patients with CVC > 90 days
Improved patient engagement rates
One powerful platform built to accelerate growth and improve outcomes.
Built with physicians in mind, our platform uses predictive analytics and machine learning algorithms to surface opportunities to improve patient care and reduce costs. Insights are shared via our self-service portal, which allows you to:
Track contract and quality performance
Direct care based on uncovered insights
Communicate with extended care team members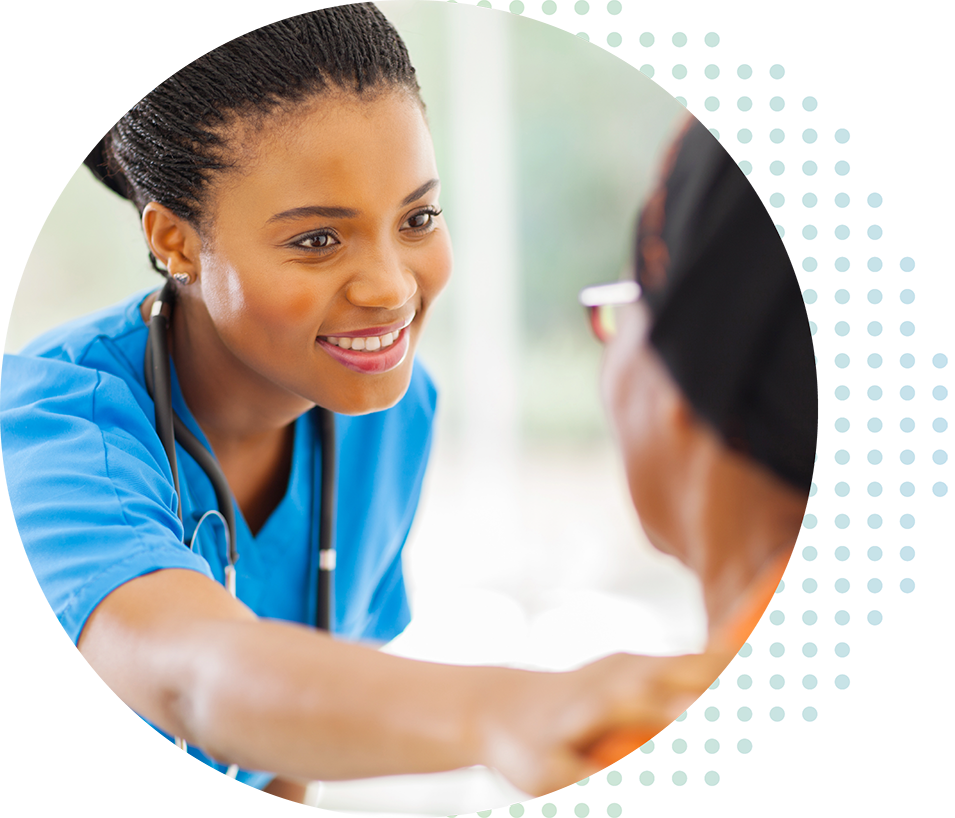 Extend the reach of your practice.
A locally based care team meets patients wherever they are to ensure your carefully prescribed care plan is followed through. Our team:
Works directly with you to coordinate care and solve for patients' unmet needs
Uses KDIGO and KDOQI guidelines that inform interventions and care plans
Goes into homes and other outside care settings to help execute your treatment regimen
HEAR FROM OUR INDUSTRY-LEADING physician PARTNERS
Across the country, more physicians are seeing the benefits of our partnership as they transition to VBC. Together, we are innovating an industry and doing more for their patients.
"We've recognized a growing need to move toward care models that promote treating the whole person, not just the disease. This partnership with Somatus enables us to do more for our patients, giving them access to more support, education, and resources whenever and wherever they needed it, even when they step outside the four walls of our practice."
Dr. Steven Butler
Regional Kidney Care
"The Somatus team has been incredibly helpful to our practice. Their caring and knowledgeable team integrated seamlessly into our office and partnered closely with our staff to help our patients achieve better health. The data and support that they bring has been deeply impactful to our practice, and my partners and I are absolutely delighted to work with Somatus."
Dr. Mohammed Ashraf
Lynchburg
"Somatus has been an incredible partner to KCC. The synergy between Somatus and KCC has enhanced our care delivery to our patients. The Somatus program provides whole-person care that addresses the SDOH needs of our patient community and supports our efforts to provide more equitable care to the members of our community that need the most support. The Somatus care team supports our local KCC care team to extend the reach of our practice into our patients' homes, so our patients can live healthier lives at home."



Dr. Tunji Alausa
KCC
Grow your practice and win in value.
Learn more about how Somatus can help you succeed in value-based kidney care.